When was BME established?
A
BENZMARK MARINE ENGINEERING (M) SDN BHD (BME) is established on year of 2017.
What is the minimum requirement of the vessel to dock?
A
In any case, BME still has some site constraints that some of the vessels are not able to dock on our parking space. Therefore, the minimum width of the vessel shall more than 8meters and the length of the vessel shall not more than 135meters.
What are the safety practices of BME?
A
A safe workplace is a sound of business. We have implemented our work safety policies, quality control policies, and work safety education to sensitize our crew on site. Over the years, the probability of accidents has been high in the shipbuilding and ship repair business. Besides, Therefore, BME places great emphasis on occupational safety, health, and environment
(OSHE) regulations.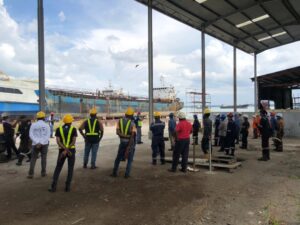 What types of ships / vessels can be built by BME?
A
Fishing Vessels such as Fishing Trawlers, Purse Seine Fishing Boats from GRADE C – C3. Passenger Ships such as carriers' passengers for hire, fishing boats for leisure, yachts, speed boat, cruise and etc. Service vessels such as tugs, dredgers, offshore support vessels, pilot boat
How long for 1 unit of Fishing Trawler (Grade C) been built?
A
4 – 5months. BME implemented the plasma cutting machines and able to cut every piece of metal required for shipbuilding with precision and also it helps to reduce the human error.
What kind of painting are used on the vessel?
A
JOTUN, HEMPEL, INTERNATIONAL PAINT
Not found your question? Just ask us!